Stage Rental LED Display
---
Stage LED Display can divide a complete image into several blocks or achieve a large dynamic screen with multiple ordinary video units, which can realize the overlay of image-texts, close-up of figures, scrolling of texts, horizontal and vertical movement etc. Stage renta Display is widely used in Large entertainment venues and big events for its light weight, fast installation and dismantlement, easy maintenance, which can be mainly divided into dangling screen, floor-standing screen and floating screen.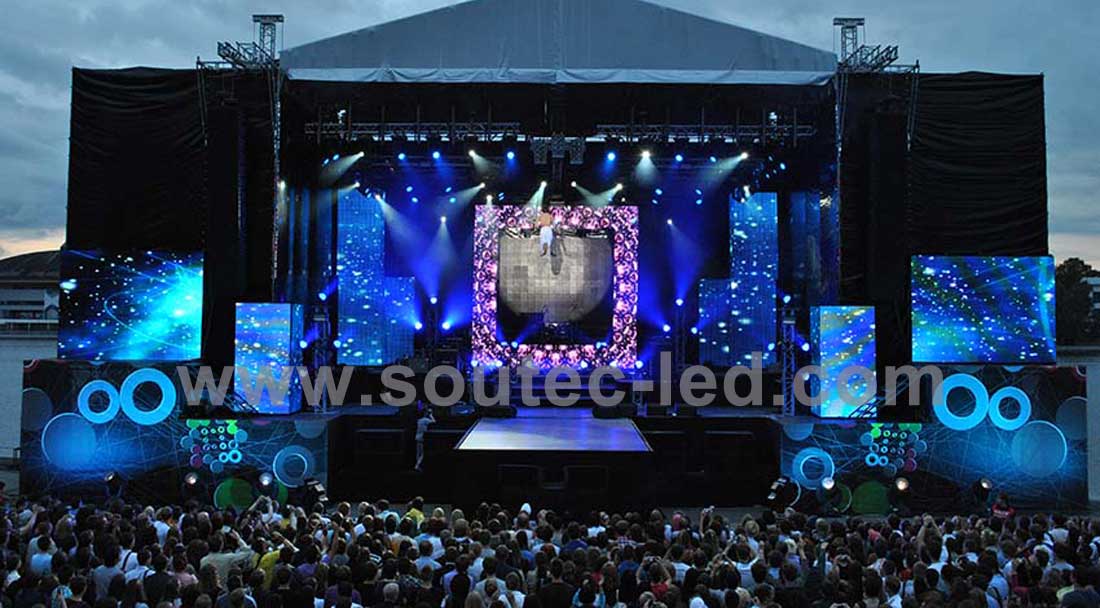 LED Stage Display mainly include rental led display,LED Curtain and LED Mesh,LED Dance Floor, and LED Ball,which is widely used .

•Mainly used in high level entertainment discos, large song and dance shows, fashion shows, outdoor advertising signs, building wall etc.
•It is a multimedia LED display system that can create virtual scenes and vivid color effects, which is primarily used as the background of film studio and digital stage.
•It is not only to install and dismantle but also competitive priced. Fits mass stage background making.
•Soutec stage LED display represents vivid prospects, abstract images and able to create illusive effects.
•Our stage LED display is equipped with a professional audio and video system to process multiple signals, which ensures the quality from signal processing and make it possible to play high fidelity images.
•The LED screen is controlled by two computers with duel cable features. When one computer fails, the other computer automatically takes over the work, thus ensuring normal operation of the display.
Description.
1. Die-casting Aluminum Structure, deformation assistant and easy to transport. In addition, it is convenient to assemble and disassemble.
2. Supports signal flow randomly, satisfies different array and putting in order to create different image effects.
3. Equips professional video processor, which supports signal formats like AV, DP, VGA, DVI, YPBPR, HDMI, SDI etc.
4. Supports brightness adjustment and white balance custom adjustment with 256 levels, which enables mix usage of different batches of display.
5 And Outdoor product with good effect of water proof, with IP65 ingress protection, applied for outdoor rental use.
6 Equipping with every spec of flight cases, which are convenient to store and transport, and also well protection for displays.
7. Possess high refreshing frequency, which satisfies different photograph needs of different occasions, in addition avoids blink of photographing effectively.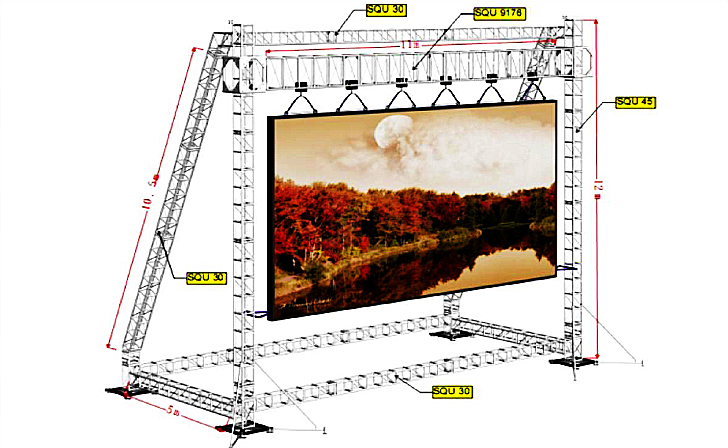 Stage LED Display Conctrol System
1.Video Processor with multiple signal channel, satisfying the switch of different perspectives from live broadcast, advertising image and on-scene interview;
2.Splicer a kind of high and new equipment dividing a complete image into several blocks to achieve a large dynamic screen with multiple ordinary video units;
3.DVI Distributor used for multiple digital video output with one-way digital video input and multi-channel video output function, to display images of the same DVI signal source with multiple digital display terminal in multimedia application system